Introduction
An unique feature of the Lotus 340R is the standard fitment of Yokohama A038R tyres which offer stunning levels of grip in the dry. When warm, these tyres offer fantastic performance and are excellent for use on track, as well as being road legal.
However the hard core track day enthusiast will not have missed the fact that many other track day vehicles are fitted with slick tyres and this has led some owners to experiment with slicks.
The differing sizes and widths of the 340R wheels has meant that the procurement of slicks has been no easy matter. Many specialist slicks are produced purely for race series and are not for sale to the general public.
Up to now the most common approach to slicks on a 340R has been to use Michelin/BF Goodrich Touring car Fronts (only available second hand) combined with Pirelli Porsche Cup Rears (available new) - Although more recently Dunlop slicks have also been available.
Those owners using slicks have found them to offer :
Enhanced stability of the car in transitions.

Sharper turn in.

Better braking

High resistance to understeer.

Much higher cornering speeds
In short the car can easily be driven much quicker even by the less skillfull driver - although for many of us the first outing on slicks was a revelation, the thought does occur that this is 'cheating' as the cars become so easy to drive fast.
Once experienced, the superior performance associated with slicks becomes addictive and the car does not feel right without them.
The New Avon 11520 Series Slick
In early 2003 Avon Tyres Racing Division decided to develop a motorsport type slick tyre specifically for the Elise S1 & 340R - this was essentially a development of a tyre originally produced by Avon for use on the Radical's.
Avon 11521 Front Slick 190/570 R15
Avon 11522 Rear Slick 230/600 R16
Preliminary development work was carried out by Avon using an Elise on various UK tracks.
The end result is a tyre designed specifically to work on this car - one drawback of the Michelin/Pirelli slicks was that the tyres had been designed for use with a 1000kg+ vehicle, as a result the compound was too hard and the construction of the tyre too heavy for optimum performance.
The compound is a medium grade which offers excellent life when used by the track day enthusiast
As well as substantial performance benefits from optimised compound and construction, a set of four tyres are a useful 8.46kg lighter than the Yokohama A038's - don't forget this is both unsprung weight saving and rotational weight saving, giving potential improvements in handling as well as acceleration
Testing the tyres
A set of Avon tyres was tested by the author and other 340R owners at Donnington (200miles) and Spa (200 miles).
Comparative testing was carried out of the various slicks available.
On the national circuit at Donnington the author found the Avons to be easily 2 seconds faster per lap than the Michelin/Pirelli and 1 second faster than the Dunlop's. For the record the best lap time was 1min 20sec but as a mediocre driver I am sure the car could have gone a lot quicker with someone more skilled behind the wheel.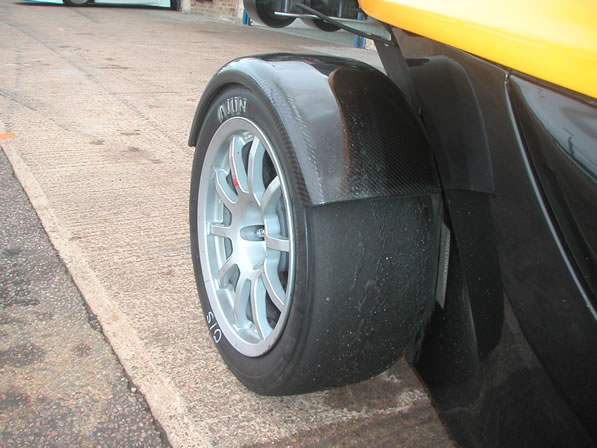 Testing the tyres at Donnington
From a subjective point of view the Avons felt a much smoother ride than the others. Turn in felt much sharper almost as if a new steering rack had been fitted.
Levels of grip were much higher than the other slicks and from a handling point of view the car was much more forgiving and could be thrown about more without adverse effects, even on difficult areas such as down Craner Curves.
Understeer was non existent and under extreme provocation a slight tail twitch could easily be corrected.
When pushed hard in the faster corners a delightful four wheel drift was in evidence. Overall front to rear balance was perfect .
Top marks to Avon for producing exactly the kind of tyres which trackday 340R and Elise owners have been waiting for.
User comments :
"The Avons have so much more feel than the other slicks and at Spa we were able to slide the car about in an easy predictable manner - when they do go they are very progressive and can be caught" - David Harvey - 340R Owner.
"I used to think of the 340R as an odd looking tea tray but taking it out round Spa I have got a lot more respect for it, quick and a lovely car to drive- don't change a thing……Can I have another go?" - Willie Green - Ringmeister & racing driver.
"As soon as I turned in for the first corner I new the Avons were better, it felt like a different car" - Peter Crook - 340R Owner.
Availability
The Avon slicks are available from Hutchison Motorsport .
World wide shipping available.
Contact Mark Hutchison on :
Telephone : 01283 540 491
Mobile: 07980 840 717
Email : m@rkhutchison.co.uk
Web : http://www.hutchisonmotorsport.co.uk
Surface Mail :
Hutchison Motorsport
Unit 5, Stretton Business Park
James Brindley Way
DE13 0BY
United Kingdom
Matching Wheels
Owners will usually require another set of wheels to fit their slicks to whilst retaining the existing wheels for road or wet track use.
For 340R owners the most popular options are :
Use of the Rimstock (centre lock look) alloy wheels which some cars were supplied with - as these wheels are rather heavy and half an inch narrower than the UK standard Technomagnesio wheels, we recommend that these be used for road use or wet track use, saving your technomagnesio's for ultimate dry track performance. Rimstocks are occasionally sold cheap by owners having a kept them and never used them.

Technomagnesio wheels - these magnesium alloy wheels are the lightest wheels available for a 340R but not in general production. Lotus list price for these wheels is almost £2000 per set - and not in stock. Sometimes available second hand - expect to pay around £1300 for a set - nice if you can get them.

Speedline Corse Champion - Magnesium alloy wheels, light and very very strong these are most suitable for extreme track use.
Speedline Corse Champion magnesium alloy wheels are available from Hutchison Motorsport at the following prices :
Front : £215 + VAT each
Rear : £305 + VAT each
These can be supplied with Avon slicks ready fitted and balanced if required.
Speedline Corse Champion Magnesium wheels in gunmetal finish (also available in silver) fitted to David Harvey's Car

Technical notes
Pressures
The slicks should be initially set to 18 psi when cold and then when hot the pressures should be adjusted to:
Front : 22 psi
Rear : 24 psi
Clearance
Clearances between parts on 340R's can vary from vehicle to vehicle. Owners should be aware that on several vehicles clearance under heavy compression between the tyre and the rear body tub behind the rear wheels was tight. This is not a problem when new, but after a few miles, soft shards of rubber will migrate across the surface of the tyre towards the inner edge. These are eventually thrown off the tyre and flick themselves onto the body tub where they stick. The flicking action of these shards of rubber can scratch the body where they contact (although this is not an easily visible area of the car) - for owners who are concerned about this cosmetic damage a 3mm wheel spacer can be used which reduces this. Click here for more pictures and information
Durability
Durability of the tyres appears to be excellent. After 400 track miles wear was minimal. We estimate that an under average conditions the tyres should be good for well over 1500 miles. As always tyre wear is largely dependant on driving style and mileages would be reduced for more aggressive drivers.
Click here for durability pictures.
Rear Toe Link Upgrade
According to Lotus reccomendations for the Elise "if slick tyres are to be used, with the associated increase in supension loadings, it is recommended to replace the rear suspension toe control links with uniball type links". Whilst the author has in fact fitted this upgrade, he is aware of two other 340R owners who have used slicks for 18 months using the standard toe links without problems.
Owners wishing to err on the side of caution can fit Lotus B111D0127S Uniball Kit or alternative uniball toe link kits are available from eliseparts.com.
Oil Surge
Of the half a dozen 340R owners running with slicks for 2 years, none has experienced this problem - maybe we're not pushing the cars hard enough!